Specializing in True Tonsorial Services
World-Class Haircuts in Timonium, MD
Haircuts
Shaves
Fades
Beard Trims
Razor work
First time attending True Barber Co and have to say it was a great experience. The shop is warm and inviting only to be outdone by the incredible customer service.
Florentina is at the top of her game. She consistently delivers an excellent experience. If you like a precise haircut and beard trim, do give her a try.
Tina is hands down the best. She's quick, efficient, and very precise. She's also amazing with kids. She put my four year old at ease and made the process a lot of fun for him. Come here to get your haircut, you will NOT regret it.
Welcome to True Barber Company — We are a team of skilled barbers with a passion for delivering the best possible service to our clients. Our specialties include fades, scissor cuts, longer haircuts, beard trims, and razor work.
We believe in the value of a personal touch. That's why we greet every client with a cocktail, beer, espresso, or soda to help them relax and enjoy their visit with us. And when you leave our shop, your haircut is finished with a hair wash and style to help you look and feel your best.
Are you newly engaged? Congratulations! We offer wedding packages to help you and your groomsmen look your absolute best on your special day. Our team, led by Florentina, will be with you every step of the way to ensure that everything goes smoothly. We even offer on-site services so you don't have to worry about traveling to our shop. Call us your personal beauty concierge.
Thank you for considering True Barber Company. We look forward to serving you and helping you achieve the look you want. Our services are provided by appointment only, please click here to schedule an appointment today.  Please don't hesitate to contact us with any questions. 
Offering a range of hair cut services for any hair style or preference – Long hair, Short hair, Scissor cuts, Clipper cuts. Every haircut is finished with a hair wash and style. 
Full face shaves, partial shaves, head shaves. Treatment includes a hot towel and warm lather. Skilled and experienced with a straight razor to deliver a precision shave. 
Our skilled barbers have years of experience in working with all types of beard styles and lengths, and they will take the time to carefully shape and shave your beard to your exact specifications using clippers, trimmers or scissors.
Premium Barber Shop Services
At True Barber Co. we offer a variety of services at competitive prices. Please see below for a complete list of our services and pricing.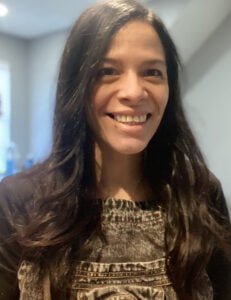 Florentina Palombo

Owner | Master Barber
Master Barber with 9 plus years experience in her craft. She specializes is Fades, Scissor cuts, longer haircuts, beard trims and razor work.
"I love helping people find a look that works for them. My clients feel more confident every time they leave"
Do you have a question or want to provide feedback about your recent experience?  Use the form here to send us a message. We appreciate your time and consideration.